Way of the Open Fist
From DDwiki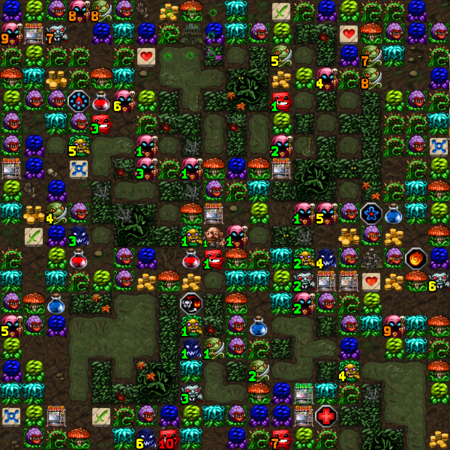 The Way of the Open Fist dungeon is the

 Monk Silver Class Challenge. The challenge is set in

 Ick Swamp. The boss is Blerglwergl, a Super Meat Man with slightly less health and

 Weakening blow.
Resources Available
Alchemist and Witch preparations are available.


 Fortitude Tonic and


 Can of Whupaz are recommended from the Witch. Shops spawn normally. Two of the following three altars spawn:


 Binlor Ironshield,

 The Earthmother, and


 Taurog.
Note that, like in standard

 Ick Swamp, plants have a chance to drop a


 Spoon, and


 Wisp Gems are guaranteed from


 Warlocks.
Strategy
There are two ways to approach this challenge. First, you can play standard monk (go for

 Orc Monk), and use


 Spoons,


 Wisp Gems,

 Greenblood,


 Skullpicker, and

 Stone Fist to raise your damage to crazy levels for a monk. With the right setup, you can easily take on


 Meat Man 5 levels above you. Certain shop items and glyphs are helpful with this. If you go this route, be sure to save your


 Fortitude Tonic for the middle of the boss fight.
Another slightly more unconventional strategy is to take a

 Gnome Monk and bypass the boss's

 Weakening blow ability with fireballs. This works well with an Earthmother strategy, since you can get a large late-game mana spike.
Do standard Monk regenfighting stuff as much as you can. Before you level up, clear out all the visible mana burn and poison plants in the way. Prey on high-level Gorgons, Vampires, and Meat Men. Wait to worship Earthmother until you're ready to fight the boss, as it becomes very difficult to move around when you can't clear away plants. For the boss, you can use a

 Greenblood strategy to get a bunch of free corrosion damage on the boss, or you can use a

 Clearance strategy to fireball the boss down.


 Platemail works well here, comboing with the Monk's natural damage reduction and
 Vine Form if you're feeling saucy to massively reduce damage done. Unfortunately, it does leave you vulnerable to Nagas, who would normally serve fairly well as popcorn. Obviously, the monk loves damage items, and if you go Gnome, a


 Trisword and


 Whurrgarbl can translate into a bunch of extra damage on the boss. If you go the fireball boss kill route, standard caster items like


 Crystal Ball and


 Battlemage Ring are good finds.


 Viper Ward and


 Soul Orb give you a great deal of freedom to clear plants, and give a great deal of CP when you're done clearing plants.
While it is not an item,

 HALPMEH is very good here as well, allowing you to clear poison plants with impunity, as well as playing into the Monk's attrition strategy by offering more health/tile explored.
Desktop Dungeons

General Concepts:

New Players Guide · Strategy · Unlocking content · Leveling ·  Quests ·  Puzzles ·  Traits ·  Health and Attack ·  Mana ·  Knockback ·  Items ·  Badges ·  Class Challenges

Classes:
Races:
Gods:

 The Pactmaker ·  Binlor Ironshield ·  Dracul ·  The Earthmother ·  Glowing Guardian ·  Jehora Jeheyu ·  Mystera Annur ·  Taurog  ·  Tikki Tooki

Monsters:

| Common | Advanced | Special | Plants |
| --- | --- | --- | --- |
|  Bandit ·  Dragon Spawn ·  Goat ·  Goblin ·  Golem  ·  Goo Blob ·  Gorgon ·  Meat Man ·  Serpent ·  Warlock ·  Wraith ·  Zombie  |  Acid Blob ·  Animated Armour ·  Berserker ·  Burn Viper ·  Cave Snake ·  Changeling ·  Cultist ·  Desert Troll ·  Djinn ·  Doom Armour ·  Druid ·  Forest Troll ·  Frozen Troll ·  Gelatinous Thing ·  Illusion ·  Imp ·  Minotaur ·  Muck Walker ·  Naga ·  Rock Troll ·  Rusalka ·  Shade ·  Slime Blob ·  Steel Golem ·  Succubus ·  Thrall ·  Tokoloshe ·  Vampire  |  Bilious Corpse ·  Bloo Goo ·  Blood Snake ·  Dancing Blade ·  Frigid Corpse ·  Goblin Miner ·  Golden Statue ·  Heretic ·  Mystery Meat ·  Ratling ·  Trapped Chest ·  Revenant ·  Bridge Troll  |  Plant ·  Barbing Bush ·  Corrosive Creeper ·  Erosive Eelroot ·  Mysterious Murkshade ·  Poisonous Pod  |

Dungeons:

Easy/Normal
Hard
Vicious

 Hobbler's Hold (Easy) ·  Venture Cave ·  Den of Danger ·  Eastern Tundra ·  Northern Desert ·  Southern Swamp ·  Western Jungle 

 Berserker Camp ·  Creeplight Ruins ·  Cursed Oasis ·  Doubledoom ·  Grimm's Grotto ·  Halls of Steel ·  Havendale Bridge ·  Hexx Ruins ·  Ick Swamp ·  Magma Mines ·  Rock Garden ·  Shifting Passages ·  The Labyrinth ·  The Slime Pit ·  Tower of Gaan-Telet 

 Vicious Steel ·  Demonic Library ·  Namtar's Lair ·  Naga City ·  Dragon Isles ·  Vicious Gaan-Telet 

Also see: Subdungeons

Buildings:

Settlements ·  Guild ·  Thief Den ·  Church ·  Mage Tower · Bank · Blacksmith · Bazaar · Witch · Tavern · Taxidermist · Explorers' Guild · Alchemist · Goat Glade

Glyphs:

 APHEELSIK ·  BLUDTUPOWA  ·  BURNDAYRAZ ·  BYSSEPS ·  CYDSTEPP ·  ENDISWAL ·  GETINDARE ·  HALPMEH ·  IMAWAL ·  LEMMISI ·  PISORF ·  WEYTWUT ·  WONAFYT