The Arena
From DDwiki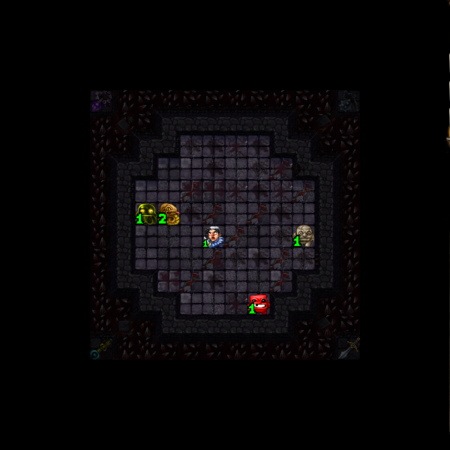 | | |
| --- | --- |
| | This article is in need of content, please consider adding to it. |
The Arena dungeon is the

 Fighter gold challenge.
Okay Fighter, it's time to do what you do best! Can you survive the trials of the Quaking Arena and emerge as champion?
Monsters: All unlocked monsters
Boss: Mister Goat
Recommended Preparations: Perseverance Badge, Health Potion, Mana Potion, Quicksilver Potion, Strength Potion, Can of Whupaz, Transmutation Seal
Recommended Race(s): Goblin
Strategy
You start with platemail. This dungeon consists of 9 waves. The 9th wave holds the boss Mister Goat. The next wave spawns when you beat the strongest monster from the previous one. The strongest monster in the first wave is always a snake. Each "mini-boss" holds a different glyph. The order of them is different every time but they will always be

 BURNDAYRAZ,

 BYSSEPS,

 ENDISWAL,

 GETINDARE,

 IMAWAL,

 LEMMISI,

 PISORF, and

 WONAFYT. In the corners of the arena are a


 Cracked Amulet a


 Sword, a

 Bear Mace, and a


 Slaying Wand. Save

 BURNDAYRAZ,

 BYSSEPS, and

 LEMMISI to whittle down the bosses resist through your extra tiles. Use the slayer wand on the level 9 "mini-boss". Save as many glyphs as possible for mid-fight level ups against the boss.