Desktop Dungeons
From DDwiki
Welcome to the Desktop Dungeons Wiki!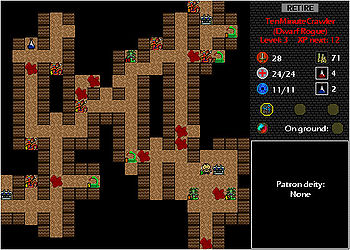 NOTE: The Wiki was recently hit by a botnet, so we've disabled all anonymous editing. if you do find a page that is mangled, revent it to a previous good version, or delete it if it's a new page. Thanks for the help :)
If you've never played a roguelike before, prepare to die, because you will! A lot! Desktop Dungeons was designed as a quick 5-15 minute mini-roguelike experience for you to enjoy without having to lose yourself for hours in the more complex roguelikes such as Dungeon Crawl Stone Soup. (DD is also heavily inspired by DCSS.)
In the coming weeks this will be established as the #1 source for information about the PC game Desktop Dungeons. Registration is easier than most forums; feel free to contribute if you spot any inaccurate information.
Game information
Feedback and media
Get Desktop Dungeons
Contributing