Bloodsoaked Blade
From DDwiki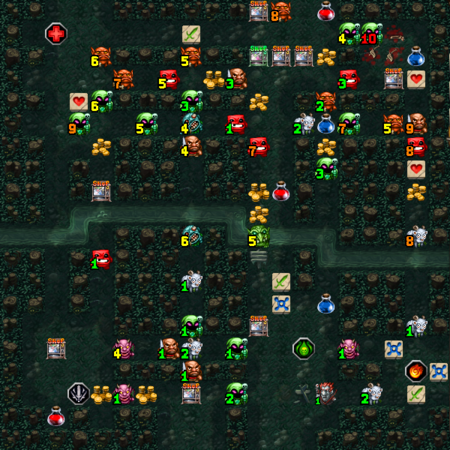 The Bloodsoaked Blade is the

 Bloodmage silver challenge. The dungeon is a modified version of the

 Havendale Bridge. The reward for completion is the


 Vampiric Blade.
Preparations
 Mage Tower, Blacksmith, and Bazaar.
Monsters
Boss
The boss is a


 Druid named Trikkistix that has two forms.
First Form (Physical Resist Form):

Second Form (Magic Resist Form):
Resources
Unlike the standard

 Havendale Bridge, there are no altars. There are no subdungeons or secret subdungeons. Standard number of stat boosters. Standard number of shops.
All glyphs except

 BURNDAYRAZ are random.
The Problem
The typical

 Bloodmage strategy of fueling

 BURNDAYRAZ with

 BLUDTUPOWA is problematic once you get to the boss for three reasons.
1) Fireballs will make Trikkistix blink and spawn three plants. The map has several long tunnels that are easily and quickly cut off by plants, and Trikkistix will inevitably spawn to a location where he is protected by his plants. Because there are no altars,

 Clearance is not an option. Killing these plants, in addition to causing status ailments, will discharge

 Burned on Trikkistix; Trikkistix will not blink, but discharging

 Burned will spawn additional plants. The plants will frequently cover bloodpools.
2) Unless you are an

 Elf, you will not have enough mana to cast two fireballs in a row. Because the boss

 Blinks, the map will be mostly explored by the time you fight him, so

 BLUDTUPOWA is not viable for mana recovery. Your only options are either Mana Potions,


 Crystal Ball (which cannot be prepped), or mid-fight level ups.
3) If you survive his first form, his second form has 50%

 Magic resist. Even with a


 Piercing Wand, fireballs will not be mana-efficient compared to physical attacks.
Strategies
A successful strategy should utilize

 BURNDAYRAZ with

 BLUDTUPOWA for leveling until the time comes to fight the boss, at which point transitioning to physical damage is necessary. A combination of the following tactics are effective: