Hobbler's Hold
From DDwiki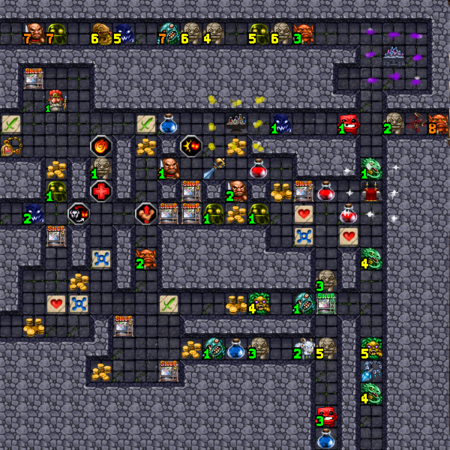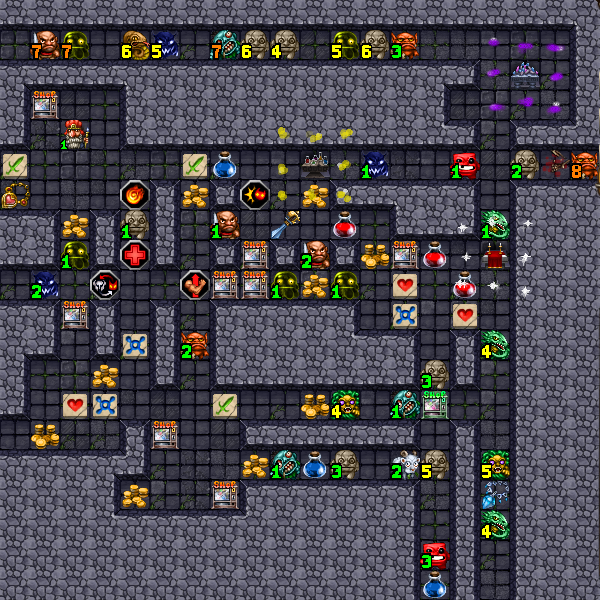 For struggling journeymen who want to help the realm but aren't quite ready for the full adventuring experience. Corpses of previous hopefuls litter this dungeon, offering much-needed looting opportunities.




 Hobbler's Hold is an Easy difficulty dungeon designated by its (!) marker on the dungeon map. It is unlocked by completing the tutorials. No gold may be earned here after your first victory in another dungeon.
Overview
Monsters: All unlocked so far. Monster difficulty is 80%.
Bosses:


Special: This dungeon is designed as a stepping stone for new players. There is a


 Pendant of Health, a


 Pendant of Mana, and a


 Fine Sword laying around. The boss is level 8. No gold may be earned here after your first victory in another dungeon.
Strategy
Recommended Classes: All
There is no particular strategy for this dungeon, as the boss is extremely weak, so all classes should be able to complete this easily. One funny thing you can do, if you play as an

 Assassin, is assassinate the boss. As it is usually impossible to reach level 9, you reach level 8, worship


 Dracul, take

 Blood Curse, which brings you to level 9, which makes you able to

 SWIFT HAND the boss. Normally, your potions should easily be enough to outlast him.
Quests
The only quest in

 Hobbler's Hold is A Little Agreement, which simply needs you to beat it once. As stated above, this is extremely easy, so you should not have any trouble completing this. The reward is letting you upgrade your

 Guild for free.
Badges
The only badge that is harder to get here is


 DING! Max!. Finding or prepping a

 Balanced Dagger or the

 Amulet of Yendor will make it possible. The easiest way is by playing as the

 Goblin Fighter and prepping the

 Balanced Dagger. If you can get a

 WONAFYT Glyph early that helps as well.
Desktop Dungeons

General Concepts:

New Players Guide · Strategy · Unlocking content · Quests · Puzzles · Traits · Mana · Leveling · Items · Scoring · Class Challenges

Classes:
Races:
Gods:

 The Pactmaker ·  Binlor Ironshield ·  Dracul ·  The Earthmother ·  Glowing Guardian ·  Jehora Jeheyu ·  Mystera Annur ·  Taurog  ·  Tikki Tooki

Monsters:

| Common | Advanced | Special | Plants |
| --- | --- | --- | --- |
|  Bandit ·  Dragon Spawn ·  Goat ·  Goblin ·  Golem  ·  Goo Blob ·  Gorgon ·  Meat Man ·  Serpent ·  Warlock ·  Wraith ·  Zombie  |  Acid Blob ·  Animated Armour ·  Berserker ·  Burn Viper ·  Cave Snake ·  Changeling ·  Cultist ·  Desert Troll ·  Djinn ·  Doom Armour ·  Druid ·  Forest Troll ·  Frozen Troll ·  Gelatinous Thing ·  Illusion ·  Imp ·  Minotaur ·  Muck Walker ·  Naga ·  Rock Troll ·  Rusalka ·  Shade ·  Slime Blob ·  Steel Golem ·  Succubus ·  Thrall ·  Tokoloshe ·  Vampire  |  Bilious Corpse ·  Bloo Goo ·  Blood Snake ·  Dancing Blade ·  Frigid Corpse ·  Goblin Miner ·  Golden Statue ·  Heretic ·  Mystery Meat ·  Ratling ·  Trapped Chest ·  Revenant |  Plant ·  Barbing Bush ·  Corrosive Creeper ·  Erosive Eelroot ·  Mysterious Murkshade ·  Poisonous Pod  |

Dungeons:

Easy/Normal
Hard
Vicious

 Hobbler's Hold (Easy) ·  Venture Cave ·  Den of Danger ·  Eastern Tundra ·  Northern Desert ·  Southern Swamp ·  Western Jungle 

 Berserker Camp ·  Creeplight Ruins ·  Cursed Oasis ·  Doubledoom ·  Grimm's Grotto ·  Halls of Steel ·  Havendale Bridge ·  Hexx Ruins ·  Ick Swamp ·  Magma Mines ·  Rock Garden ·  Shifting Passages ·  The Labyrinth ·  The Slime Pit ·  Tower of Gaan-Telet 

 Vicious Steel ·  Demonic Library ·  Namtar's Lair ·  Naga City ·  Dragon Isles ·  Vicious Gaan-Telet 

Also see: Subdungeons

Buildings:

Settlements ·  Guild ·  Thief Den ·  Church ·  Mage Tower · Bank · Blacksmith · Bazaar · Witch · Tavern · Taxidermist · Explorers' Guild · Alchemist · Goat Glade

Glyphs:

 APHEELSIK ·  BLUDTUPOWA  ·  BURNDAYRAZ ·  BYSSEPS ·  CYDSTEPP ·  ENDISWAL ·  GETINDARE ·  HALPMEH ·  IMAWAL ·  LEMMISI ·  PISORF ·  WEYTWUT ·  WONAFYT