Forging Ahead
From DDwiki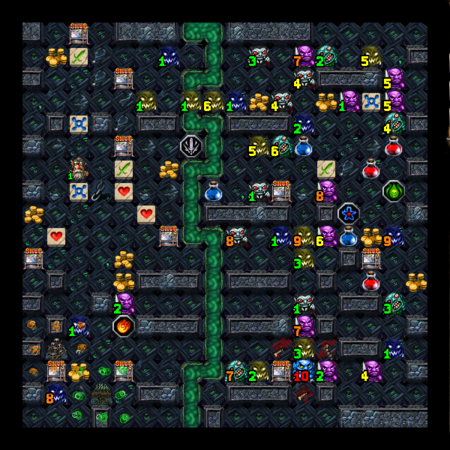 Forging Ahead is a special dungeon that serves as the

 Tinker silver challenge. Functionally it is reminiscent of the Shifting Passages dungeon in the sense that walls spawn each time a monster is killed; coincidentally, the boss is also similar, being able to both Blink and switch secondary special abilities between strikes.
Preparations
Blacksmith only.
Resources
The dungeon has regular stores (with a special offering of items, see Special Rules below), however there are no Alchemist stores. There are two altars, dedicated to two deities from:

 The Earthmother,


 Mystera Annur or


 Taurog.
Special Rules
You cannot convert any items or glyphs except for your starting scrolls.
Shops spawn with a generally fixed array of items, many of which are rare or unique to this dungeon. About half of the items come from the basic store list (so you can get things like


 Pendant of Health,


 Pendant of Mana,


 Bloody Sigil or


 Spoon); the rest come from a special list only available in this dungeon:
The map is divided by a river, with a single stepping stone serving as a bridge between two halves. Walls perpendicular to the river will appear as each enemy is defeated.
Enemies

 Vampire,


 Wraith,


 Shade,


 Thrall and


 Zombie
The Boss
The boss is Force, a level 10 Djinn (HP 522/ATK 75/Blink) that changes secondary abilities as it blinks around.
Strategy
Recommended Race: Any (see below).
You cannot convert any items or glyphs except for your starting scrolls, and you don't want to convert those anyway. If you save your potions and don't want an entire line of inventory taken up by that Spoon, this limits you to 3 small items (conveniently, there are 3 Compression Seals available) and 5 large ones.
Cracked Orb and Ritual Scroll are consumed on use, and so don't take a space.
Half the enemies on this dungeon have lifesteal. This is really annoying.
As you do not actually gain conversion points in this dungeon, race choice is irrelevant. Because you are not allowed to convert - and because the store selection is 'rigged' towards basic items, or special items with limited/constrained features - you will need to be very careful not to pick up something that will just clog your inventory. Better items to pick up are those that give you damage, mana or health; or those that are used up, i.e. don't lock an inventory slot going forward. Same goes for glyphs, pick up BURNDAYRAZ and 1-2 extra ones that look useful.
The more straightforward deity selection is to just to go with


 Mystera Annur (ideally after killing most of the Wraiths), gaining you a couple of extra Mana points, as well as possibly Mystic Balance to increase the number of fireballs you can cast.

 The Earthmother is more of a mixed bag for this dungeon, because most of the enemies are

 Bloodless, so

 Plantation will have very little effect. Therefore she can provide a bit of everything, but to get any meaningful Mana spike out of her will require a lot of

 IMAWAL use.


 Taurog can work nicely, as his extra damage and death protections can be super useful against the boss - however, his equipment seriously limits what other stuff can be carried, plus glyph conversions are out of the question.
Desktop Dungeons

General Concepts:

New Players Guide · Strategy · Unlocking content · Leveling ·  Quests ·  Puzzles ·  Traits ·  Health and Attack ·  Mana ·  Knockback ·  Items ·  Badges ·  Class Challenges

Classes:
Races:
Gods:

 The Pactmaker ·  Binlor Ironshield ·  Dracul ·  The Earthmother ·  Glowing Guardian ·  Jehora Jeheyu ·  Mystera Annur ·  Taurog  ·  Tikki Tooki

Monsters:

| Common | Advanced | Special | Plants |
| --- | --- | --- | --- |
|  Bandit ·  Dragon Spawn ·  Goat ·  Goblin ·  Golem  ·  Goo Blob ·  Gorgon ·  Meat Man ·  Serpent ·  Warlock ·  Wraith ·  Zombie  |  Acid Blob ·  Animated Armour ·  Berserker ·  Burn Viper ·  Cave Snake ·  Changeling ·  Cultist ·  Desert Troll ·  Djinn ·  Doom Armour ·  Druid ·  Forest Troll ·  Frozen Troll ·  Gelatinous Thing ·  Illusion ·  Imp ·  Minotaur ·  Muck Walker ·  Naga ·  Rock Troll ·  Rusalka ·  Shade ·  Slime Blob ·  Steel Golem ·  Succubus ·  Thrall ·  Tokoloshe ·  Vampire  |  Bilious Corpse ·  Bloo Goo ·  Blood Snake ·  Dancing Blade ·  Frigid Corpse ·  Goblin Miner ·  Golden Statue ·  Heretic ·  Mystery Meat ·  Ratling ·  Trapped Chest ·  Revenant ·  Bridge Troll  |  Plant ·  Barbing Bush ·  Corrosive Creeper ·  Erosive Eelroot ·  Mysterious Murkshade ·  Poisonous Pod  |

Dungeons:

Easy/Normal
Hard
Vicious

 Hobbler's Hold (Easy) ·  Venture Cave ·  Den of Danger ·  Eastern Tundra ·  Northern Desert ·  Southern Swamp ·  Western Jungle 

 Berserker Camp ·  Creeplight Ruins ·  Cursed Oasis ·  Doubledoom ·  Grimm's Grotto ·  Halls of Steel ·  Havendale Bridge ·  Hexx Ruins ·  Ick Swamp ·  Magma Mines ·  Rock Garden ·  Shifting Passages ·  The Labyrinth ·  The Slime Pit ·  Tower of Gaan-Telet 

 Vicious Steel ·  Demonic Library ·  Namtar's Lair ·  Naga City ·  Dragon Isles ·  Vicious Gaan-Telet 

Also see: Subdungeons

Buildings:

Settlements ·  Guild ·  Thief Den ·  Church ·  Mage Tower · Bank · Blacksmith · Bazaar · Witch · Tavern · Taxidermist · Explorers' Guild · Alchemist · Goat Glade

Glyphs:

 APHEELSIK ·  BLUDTUPOWA  ·  BURNDAYRAZ ·  BYSSEPS ·  CYDSTEPP ·  ENDISWAL ·  GETINDARE ·  HALPMEH ·  IMAWAL ·  LEMMISI ·  PISORF ·  WEYTWUT ·  WONAFYT