Terror Grows
From DDwiki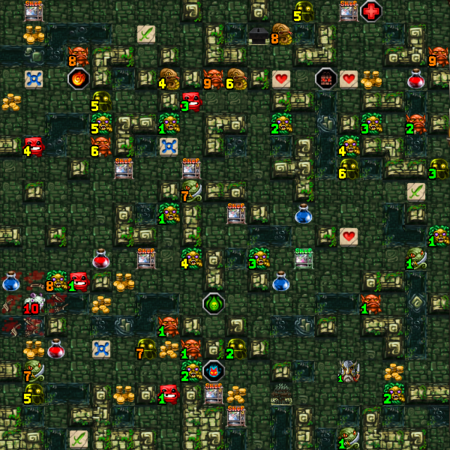 The Terror Grows dungeon is the

 Warlord silver challenge. The dungeon is a modified version of the

 Hexx Ruins. The boss uses the name and sprite of Bleaty the


 Goat, but his attributes are actually a slightly tweaked version of Stheno the

 Gorgon.
Preparations
 Thief Den and
 Mage Tower
Reward
This challenge will grant you the perplexing but powerful


 Trisword. This item is one of the most sought-after in the game for players who enjoy playing as

 Halfling or

 Gnome characters.
Resources Available
The dungeon will always spawn the

 HALPMEH,

 WEYTWUT and

 IMAWAL glyphs. As well, you will always find an altar of

 The Earthmother. Otherwise, there are normal shops to be found throughout the dungeon.
Revenant Goats
Like the

 Hexx Ruins, every time you slay a monster an evil

 Revenant will rise in its place. However, these revenants take the form of a


 Goat. No matter what level the monster is, these revenants will deal 999 damage, and they also have

 First Strike. They grant no XP when killed. There are three ways to deal with these monsters:
Death Protection: you can survive their attacks with death protection
Slow: a slowed monster loses first strike, allowing you to avoid their devastating 999 damage attack. You can use either

 

WEYTWUT

or the Entanglement boon of the Earthmother to do this.
Petrify: using the

 

IMAWAL

glyph to turn these monsters into statues will effectively remove them from play
Death protection is a very expensive way to deal with these goats, so where-ever possible try to stone or slow them.
Boss
The boss uses the name and sprite of Bleaty the


 Goat, but his attributes are actually a slightly tweaked version of Stheno the

 Gorgon. When attacked for the first time, every remaining monster on the dungeon (including goat revenants) will turn to dust and empower Bleaty with additional resistances. It is in your best interest to remove or petrify all of them before fighting the final boss. Bleaty has 100% death gaze, but reasonably low damage. You can either use

 HALPMEH to fight at full health or

 CYDSTEPP to fight at 1 HP, whichever makes more sense for your character. Use

 Clearance of

 The Earthmother to restore your mana between attacks.
Desktop Dungeons

General Concepts:

New Players Guide · Strategy · Unlocking content · Leveling ·  Quests ·  Puzzles ·  Traits ·  Health and Attack ·  Mana ·  Knockback ·  Items ·  Badges ·  Class Challenges

Classes:
Races:
Gods:

 The Pactmaker ·  Binlor Ironshield ·  Dracul ·  The Earthmother ·  Glowing Guardian ·  Jehora Jeheyu ·  Mystera Annur ·  Taurog  ·  Tikki Tooki

Monsters:

| Common | Advanced | Special | Plants |
| --- | --- | --- | --- |
|  Bandit ·  Dragon Spawn ·  Goat ·  Goblin ·  Golem  ·  Goo Blob ·  Gorgon ·  Meat Man ·  Serpent ·  Warlock ·  Wraith ·  Zombie  |  Acid Blob ·  Animated Armour ·  Berserker ·  Burn Viper ·  Cave Snake ·  Changeling ·  Cultist ·  Desert Troll ·  Djinn ·  Doom Armour ·  Druid ·  Forest Troll ·  Frozen Troll ·  Gelatinous Thing ·  Illusion ·  Imp ·  Minotaur ·  Muck Walker ·  Naga ·  Rock Troll ·  Rusalka ·  Shade ·  Slime Blob ·  Steel Golem ·  Succubus ·  Thrall ·  Tokoloshe ·  Vampire  |  Bilious Corpse ·  Bloo Goo ·  Blood Snake ·  Dancing Blade ·  Frigid Corpse ·  Goblin Miner ·  Golden Statue ·  Heretic ·  Mystery Meat ·  Ratling ·  Trapped Chest ·  Revenant ·  Bridge Troll  |  Plant ·  Barbing Bush ·  Corrosive Creeper ·  Erosive Eelroot ·  Mysterious Murkshade ·  Poisonous Pod  |

Dungeons:

Easy/Normal
Hard
Vicious

 Hobbler's Hold (Easy) ·  Venture Cave ·  Den of Danger ·  Eastern Tundra ·  Northern Desert ·  Southern Swamp ·  Western Jungle 

 Berserker Camp ·  Creeplight Ruins ·  Cursed Oasis ·  Doubledoom ·  Grimm's Grotto ·  Halls of Steel ·  Havendale Bridge ·  Hexx Ruins ·  Ick Swamp ·  Magma Mines ·  Rock Garden ·  Shifting Passages ·  The Labyrinth ·  The Slime Pit ·  Tower of Gaan-Telet 

 Vicious Steel ·  Demonic Library ·  Namtar's Lair ·  Naga City ·  Dragon Isles ·  Vicious Gaan-Telet 

Also see: Subdungeons

Buildings:

Settlements ·  Guild ·  Thief Den ·  Church ·  Mage Tower · Bank · Blacksmith · Bazaar · Witch · Tavern · Taxidermist · Explorers' Guild · Alchemist · Goat Glade

Glyphs:

 APHEELSIK ·  BLUDTUPOWA  ·  BURNDAYRAZ ·  BYSSEPS ·  CYDSTEPP ·  ENDISWAL ·  GETINDARE ·  HALPMEH ·  IMAWAL ·  LEMMISI ·  PISORF ·  WEYTWUT ·  WONAFYT