The Triad
From DDwiki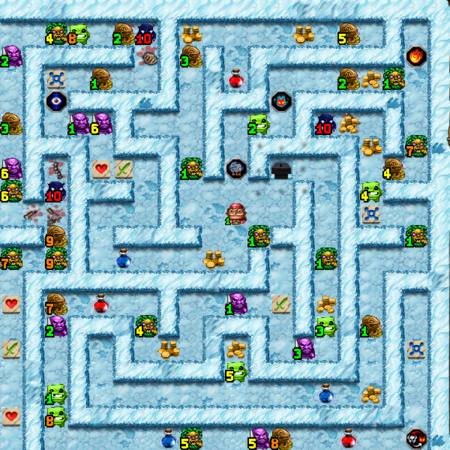 The Triad dungeon is the

 Priest gold challenge. It's a unique maze-like dungeon using the winter tile-set (East).
Preparations
None allowed.
Resources Available
The dungeon will always have the

 ENDISWAL and the normally fixed

 BURNDAYRAZ glyphs, and has no shops. There are no subdungeons. There is one Altar to


 The Pactmaker.
Special Rules
Of note is that this dungeon does not seem to have a chance to spawn CYDSTEPP.
Monsters


 Gelatinous Thing: Retaliate: Fireball

 Gorgon: Death Gaze 50%

 Serpent: Poison


 Thrall: Poison, Mana Burn, Undead, Bloodless
Bosses
There are three identical bosses in this dungeon, all three of which must be defeated to win:
(3x) The Triad (


 Wraith icon, Attack 450, Health 1, Undead, Bloodless, First Strike, Magic Immune).
Strategy
The recommended race:

 Dwarf.
The difficulty in killing each of the bosses is in surviving the retaliation hit. Even with the maximum 65% resistances granted by 4+ layers of Stone Skin, 159 Health is needed for this, which would normally only be possible for a Level 10 Priest (with all three health boosters). Hence the

 Dwarf Priest, who can reasonable achieve this amount of Health by Level 8 (or even earlier, given the right boons). In any case, using the Pactmaker correctly will be essential to winning this challenge.
You have a choice between two Pacts that are really good for this dungeon. Taking the

 Warrior's Pact early means you can reach the health needed to survive a hit from the bosses earlier (if playing as a

 Dwarf, as low as level 7). Then it's only a matter of regenerating via spare blackspace, or quaffing a Health Potion, between bosses. This approach allows for the quickest victory. Be careful with this approach if not playing as a Dwarf, because you will still need to reach a high level and/or kill most of the monsters for this set-up to work.
A second option, which is actually better if playing as another race (like

 Halfling or

 Goblin), is to take the

 Scholar's Pact. This requires a bit of timing, because it's best to take this boon around level 6 (actually, whenever your next level would bring your health to 106 or more, the 50% overheal will give you just enough health). The downside of this is that you need to level up between boss fights, so in the end you still need to kill most of the monsters in the dungeon.
In any case, take

 Consensus before taking the boon you want. Your


 Stone Sigil will give you a bit of Piety, but it's better to start at 50 

, especially since you will be spending more than gaining.
Desktop Dungeons

General Concepts:

New Players Guide · Strategy · Unlocking content · Leveling ·  Quests ·  Puzzles ·  Traits ·  Health and Attack ·  Mana ·  Knockback ·  Items ·  Badges ·  Class Challenges

Classes:
Races:
Gods:

 The Pactmaker ·  Binlor Ironshield ·  Dracul ·  The Earthmother ·  Glowing Guardian ·  Jehora Jeheyu ·  Mystera Annur ·  Taurog  ·  Tikki Tooki

Monsters:

| Common | Advanced | Special | Plants |
| --- | --- | --- | --- |
|  Bandit ·  Dragon Spawn ·  Goat ·  Goblin ·  Golem  ·  Goo Blob ·  Gorgon ·  Meat Man ·  Serpent ·  Warlock ·  Wraith ·  Zombie  |  Acid Blob ·  Animated Armour ·  Berserker ·  Burn Viper ·  Cave Snake ·  Changeling ·  Cultist ·  Desert Troll ·  Djinn ·  Doom Armour ·  Druid ·  Forest Troll ·  Frozen Troll ·  Gelatinous Thing ·  Illusion ·  Imp ·  Minotaur ·  Muck Walker ·  Naga ·  Rock Troll ·  Rusalka ·  Shade ·  Slime Blob ·  Steel Golem ·  Succubus ·  Thrall ·  Tokoloshe ·  Vampire  |  Bilious Corpse ·  Bloo Goo ·  Blood Snake ·  Dancing Blade ·  Frigid Corpse ·  Goblin Miner ·  Golden Statue ·  Heretic ·  Mystery Meat ·  Ratling ·  Trapped Chest ·  Revenant ·  Bridge Troll  |  Plant ·  Barbing Bush ·  Corrosive Creeper ·  Erosive Eelroot ·  Mysterious Murkshade ·  Poisonous Pod  |

Dungeons:

Easy/Normal
Hard
Vicious

 Hobbler's Hold (Easy) ·  Venture Cave ·  Den of Danger ·  Eastern Tundra ·  Northern Desert ·  Southern Swamp ·  Western Jungle 

 Berserker Camp ·  Creeplight Ruins ·  Cursed Oasis ·  Doubledoom ·  Grimm's Grotto ·  Halls of Steel ·  Havendale Bridge ·  Hexx Ruins ·  Ick Swamp ·  Magma Mines ·  Rock Garden ·  Shifting Passages ·  The Labyrinth ·  The Slime Pit ·  Tower of Gaan-Telet 

 Vicious Steel ·  Demonic Library ·  Namtar's Lair ·  Naga City ·  Dragon Isles ·  Vicious Gaan-Telet 

Also see: Subdungeons

Buildings:

Settlements ·  Guild ·  Thief Den ·  Church ·  Mage Tower · Bank · Blacksmith · Bazaar · Witch · Tavern · Taxidermist · Explorers' Guild · Alchemist · Goat Glade

Glyphs:

 APHEELSIK ·  BLUDTUPOWA  ·  BURNDAYRAZ ·  BYSSEPS ·  CYDSTEPP ·  ENDISWAL ·  GETINDARE ·  HALPMEH ·  IMAWAL ·  LEMMISI ·  PISORF ·  WEYTWUT ·  WONAFYT