Vegetarian Vampire
From DDwiki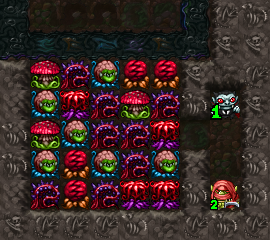 Vegetarian Vampire is a normal random subdungeon found in the Southern region. It is a pre-explored 9x8 tile sub hosting a L1 Vampire and several plants unique to this sub.
Killing the Vampire will drop the


 Recipe Scroll. Clicking the scroll will read it to reveal the five recipes. As the recipes never change, you do not need to kill the vampire, you can ignore him and start cooking right away. After use the scroll serves little purpose, though it can be converted for a bit of extra cp.
To complete a recipe, simply hit the plants with melee attacks in the order they are written in your chosen recipe. As you do so, they will place themselves in the row at the top of the dungeon floor in the order they are killed. They will be consumed irrevocably whether you complete a valid recipe or not, and there is no way to kill a plant that blocks your way without putting it in the recipe. Therefore you need to plan ahead, immediately starting on a recipe that you will actually be able to complete without blockages.
The five plants each appear like red-tinted version of standard plants, but without their negative effects. They are as follows:


Blood Root


Haemo Bush


Sang Vine


Crimson Pod


Red Shrub

Note that killing these plants will provoke

 The Earthmother's punishment.
The Recipes:
| Name | Effect | Recipe | Visually | BR | CP | HB | RS | SV | Conversion point value equivalence |
| --- | --- | --- | --- | --- | --- | --- | --- | --- | --- |
| Health Broth | +5 Health | BR - BR - SV - BR - SV | | 3 | - | - | - | 2 | 400/(player level) CP, Dwarf |
| Magi Soup | +1 Mana | CP - CP - CP - HB - SV | | - | 3 | 1 | - | 1 | 70 CP, Elf |
| Strength Syrup | +1 Base Damage | SV - RS - SV - RS - BR | | 1 | - | - | 2 | 2 | 40 CP, Orc |
| Caramel Conversions | 20 Conversion Points | HB - BR - RS - CP - RS | | 1 | 1 | 1 | 2 | - | 20 CP |
| Cake of Attack Bonus | +5% Attack | HB - CP - CP - HB - RS | | - | 2 | 2 | 1 | - | 50 CP, Human |
Tips on Use:
1. Take a glance at how many of each plant is available before starting any of the recipes. Usually 1-2 plants will become the bottlenecks for what recipes you can pick up, for example if you have only one Sang Vine available, you won't be able to pick up any Health Broth or Strength Syrup; and you will not be able to pick up more than one Magi Soup.
2. Some recipes can seem generally better than others, for example if compared to racial conversion bonuses. The best value is the Magi Soup (70 Elf CP), and the worst is the Caramel Conversions (20 CP always). Since Dwarves get a level-scaling CP bonus, the relative CP value of a flat 5HP declines (rapidly at first) from 400 to 40 CP as you level up, but this always beats Caramel Conversions on paper (in reality, 20 CP may or may not help you hit a CP threshold). That said, different characters may need different bonuses, especially if the plants available lend easily to multiple shots of a less powerful bonus; in particular, Orc and Human covet each other's bonuses far more than they want to stack more of the same. In any case, your ability to choose which recipes you want is severely limited regardless, depending mostly on the plants. It's easier to work out what you can get and choose from there - you won't have many options.
3. Sometimes the placement of the plants will prevent you from picking up a specific recipe immediately, while all other recipes require ingredients you cannot spare. What you can do in this case is to kill five surplus plants (i.e. ones you wouldn't want to use for your recipes anyway). The non-recipe they make up won't have any effect other than to clear the way for you to access the correct plants afterwards.
4. Wiping the plants will anger

 The Earthmother, so don't kill the plants if you are worshipping her.
5. You can use

 ENDISWAL to destroy the walls around the plant area to increase the number of reachable plants. Transmutation seal can be used too.
6.

 Half-Dragon can move the plants around. Specifically,

 Half-Dragon can move each plant once. If you move it into a wall, then it is destroyed right away. Other classes also can move the plants: you need to have knockback and request

 Cleansing from


 Glowing Guardian for each move.

 Half-Dragon with

 WEYTWUT can also use the vampire to break walls.
7. If you did not kill the vampire right away, then after a few center plants in the middle have been cleared away, you can use

 WEYTWUT (or

 WONAFYT) and

 PISORF to destroy one or more walls by pushing the vampire into them.
Desktop Dungeons

General Concepts:

New Players Guide · Strategy · Unlocking content · Leveling ·  Quests ·  Puzzles ·  Traits ·  Health and Attack ·  Mana ·  Knockback ·  Items ·  Badges ·  Class Challenges

Classes:
Races:
Gods:

 The Pactmaker ·  Binlor Ironshield ·  Dracul ·  The Earthmother ·  Glowing Guardian ·  Jehora Jeheyu ·  Mystera Annur ·  Taurog  ·  Tikki Tooki

Monsters:

| Common | Advanced | Special | Plants |
| --- | --- | --- | --- |
|  Bandit ·  Dragon Spawn ·  Goat ·  Goblin ·  Golem  ·  Goo Blob ·  Gorgon ·  Meat Man ·  Serpent ·  Warlock ·  Wraith ·  Zombie  |  Acid Blob ·  Animated Armour ·  Berserker ·  Burn Viper ·  Cave Snake ·  Changeling ·  Cultist ·  Desert Troll ·  Djinn ·  Doom Armour ·  Druid ·  Forest Troll ·  Frozen Troll ·  Gelatinous Thing ·  Illusion ·  Imp ·  Minotaur ·  Muck Walker ·  Naga ·  Rock Troll ·  Rusalka ·  Shade ·  Slime Blob ·  Steel Golem ·  Succubus ·  Thrall ·  Tokoloshe ·  Vampire  |  Bilious Corpse ·  Bloo Goo ·  Blood Snake ·  Dancing Blade ·  Frigid Corpse ·  Goblin Miner ·  Golden Statue ·  Heretic ·  Mystery Meat ·  Ratling ·  Trapped Chest ·  Revenant ·  Bridge Troll  |  Plant ·  Barbing Bush ·  Corrosive Creeper ·  Erosive Eelroot ·  Mysterious Murkshade ·  Poisonous Pod  |

Dungeons:

Easy/Normal
Hard
Vicious

 Hobbler's Hold (Easy) ·  Venture Cave ·  Den of Danger ·  Eastern Tundra ·  Northern Desert ·  Southern Swamp ·  Western Jungle 

 Berserker Camp ·  Creeplight Ruins ·  Cursed Oasis ·  Doubledoom ·  Grimm's Grotto ·  Halls of Steel ·  Havendale Bridge ·  Hexx Ruins ·  Ick Swamp ·  Magma Mines ·  Rock Garden ·  Shifting Passages ·  The Labyrinth ·  The Slime Pit ·  Tower of Gaan-Telet 

 Vicious Steel ·  Demonic Library ·  Namtar's Lair ·  Naga City ·  Dragon Isles ·  Vicious Gaan-Telet 

Also see: Subdungeons

Buildings:

Settlements ·  Guild ·  Thief Den ·  Church ·  Mage Tower · Bank · Blacksmith · Bazaar · Witch · Tavern · Taxidermist · Explorers' Guild · Alchemist · Goat Glade

Glyphs:

 APHEELSIK ·  BLUDTUPOWA  ·  BURNDAYRAZ ·  BYSSEPS ·  CYDSTEPP ·  ENDISWAL ·  GETINDARE ·  HALPMEH ·  IMAWAL ·  LEMMISI ·  PISORF ·  WEYTWUT ·  WONAFYT